A new year of school is upon us! Thank you, our supporter, for ensuring 129 NGS Scholars reach their dream by attending college this year.

In light of this academic year, No Greater Sacrifice (NGS) is proud to highlight a few out of 30 incoming college freshman: McKenzie, Rodrigo, and Hayden.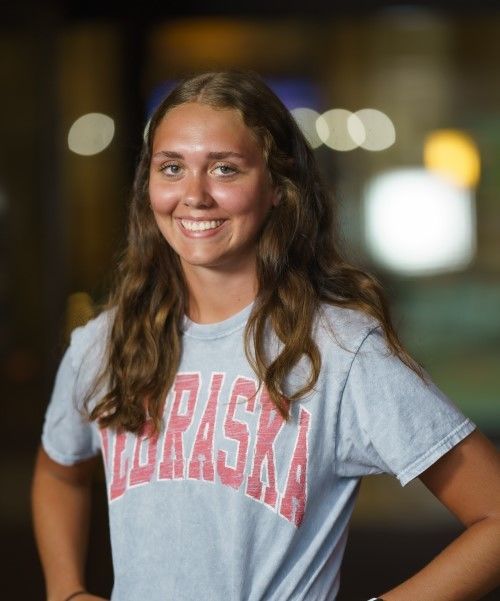 Matt Mendelsohn Photography & Creative
McKenzie McMahon graduated from Jackson Heights High School in Holton, Kansas. She participated in high school sports including basketball and volleyball and was a member of the Future Business Leaders of America and the Jackson County Youth Coalition. She and a fellow student also organized a community book drive collecting more than 200 books.

A Certified Nursing Assistant, McKenzie has worked at a local nursing home for the past two years. Always looking for ways to better serve her charges, McKenzie held blanket drives and collected holiday cards to boost the residents' spirits.

With the desire to build upon her health care experience, McKenzie will attend the University of Nebraska - Lincoln where she will major in Community Health. Ultimately, she plans to pursue a career in Physical Therapy.

McKenzie's father, Army Captain Jason McMahon, completed over 22 years of service before being killed in action during a combat deployment in Afghanistan. "My father is my biggest inspiration and has impacted my life in the most positive way. The NGS scholarship gives students needed funds to pay for educational expenses, but I believe this scholarship offers more than money. The No Greater Sacrifice scholarship means I have supporters; people who believe in my future. I possess higher goals, and I look forward to striving for them!"
Matt Mendelsohn Photography & Creative
Rodrigo Fierro graduated from Harker Heights High School in Killeen, Texas, in the spring of 2022. He played goalkeeper on the high school soccer team. Rodrigo will begin his freshman year at The University of Texas at Austin this fall where he will study Aerospace Engineering.

Rodrigo's father, SSG Robert Fierro, proudly served in the Army for ten years. While in Iraq, SSG Fierro was shot in the head and chest. Since the shooting, he has undergone numerous surgeries. His injuries include but are not limited to traumatic brain injury, seizures, and a lack of feeling on the left side of his body.

Rodrigo says his scholarship from NGS, "Relieves the stress and allows me to pursue my major and my career. My major is expensive and I'm thrilled to be able to pursue it without worrying about the cost." NGS is extremely proud of Rodrigo and looks forward to supporting him on his journey.

Matt Mendelsohn Photography & Creative
Hayden Hickman graduated from Ridgefield High School in Clintwood, Virginia, in 2022. He was inducted into the National Honor Society and participated in various school clubs including Future Farmers of America (FFA), Beta, Key Club, DECA, and the Bible Club.

Interested in rocket and propulsion system design, Hayden is excited to pursue an Aerospace Engineering major at the University of Alabama (UA). After completing his undergraduate degree, Hayden would like to pursue an engineering career at SpaceX, Lockheed Martin, or NASA.

Hayden's father, Army Sergeant First Class Jason Omar Bradley Hickman, served as a Combat Engineer for 11 years with tours of duty in Iraq and Afghanistan. In 2010, while on patrol in Afghanistan, SFC Hickman's platoon came under enemy fire. When a vehicle struck an outpost barrier and caused an explosion, SFC Hickman was thrown from the blast resulting in life-threatening injuries. Despite being promptly airlifted to a Forward Operating Base, SFC Hickman did not survive.

The NGS scholarship will allow Hayden to focus on navigating college life instead of worrying about the costs of higher education. He looks forward to meeting fellow UA students, networking opportunities, and a lifetime of learning; experiences that are priceless to Hayden.

Isabella Ravella

We would not be here without your generous support. McKenzie, Rodrigo, and Hayden join a wonderful rank of Scholars who are all on their unique path to success across numerous campuses nationwide. Here is a list of the current 98 educational institutions NGS Scholars are attending:
American Public University System
Anderson University
Arizona State University
Auburn University
Austin Community College
Belmont University
Bob Jones University
Boise State University
Boston University
Bowie State University
Clemson University
Cleveland State University
Coastal Carolina University
College of William & Mary
Colorado State University
Dallas Christian College
Davidson Davie Community College
Duquesne University
East Carolina University
Embry-Riddle Aeronautical University - Prescott
Emory University
Florida Gulf Coast University
Florida SouthWestern State College
George Mason University
Glen Oaks Community College
High Point University
Howard University
Iowa State University
James Madison University
Johnson and Wales University
Liberty University
Loyola Marymount University
Michigan State University
Middle Tennessee State University
Midwestern State University
Mississippi College
Mitchell Technical College
Norfolk State University
North Carolina State University
North Central Texas College
Oklahoma City Community College
Oklahoma State University
Pasco-Hernando State College
Pennsylvania State University
Pennsylvania State University - Altoona
Sacred Heart University
Salisbury University
Sam Houston State University
San Diego State University
Savannah College of Art and Design
Slippery Rock University
St. Mary's College
St. Philip's College
Summit Salon Academy
Temple University
Tennessee Technological University
Texas A&M University - Corpus Christi
Texas Christian University
Texas College
Texas State University
Texas Tech University
Troy University
Tyler Junior College
University of Akron
University of Alabama
University of Alabama at Birmingham
University of Arizona
University of Arkansas
University of Central Florida
University of Colorado Boulder
University of Hawai'i at Mānoa
University of Houston
University of Iowa
University of Mary Washington
University of Memphis
University of Missouri
University of Nebraska - Lincoln
University of North Carolina - Charlotte
University of North Carolina - Wilmington
University of North Carolina School of the Arts
University of North Georgia
University of South Alabama
University of South Carolina - Columbia
University of South Dakota
University of Southern California
University of Southern Mississippi
University of St. Andrews
University of Texas at Austin
University of Texas at San Antonio
University of Toledo
Utah State University
Valencia College
Virginia Commonwealth University
Virginia Military Institute
Wake Forest University
Western New England University
Yakima Valley College
*NGS complete Higher Learning listing